I can appreciate tourists. I really can. Hell, I used to be one. The thing is that they are taking over my city.
Seriously, there are too many tourists in Rio de Janeiro. It is enough to make this local go crazy. Today we went to one of my favorite fairs, the Hippie fair in Ipanema. I could hardly walk down the isles!
While I understand that we are in peak season, I have spent many summers here before. This year is far worse than the rest. My worst fears are being realized, Brazil is the new Europe. Backpackers from around the world are coming to stay in our new hostels and drink beers on our beautiful beaches. They are upping the prices of crap goods as, with the exchange rate, the price isn't bad. FYI, you should have seen the price 3 years ago.
You should all see the amount of half burnt people walking around this city. I don't know what it is about tourists in Rio de Janeiro but they never seem to give the sun the credit it deserves. That and they never remember to flip. The front half of their body looks like a second cousin of a cooked lobster and the back the brother of Casper.
And these freaky breeds of Casper and Lobster are taking over this city. With their Tevas protecting their feet and their money distributed over the 37 pockets in their cargo shorts, tourists can now be found in every single neighborhood at any given time.
If it's this bad now, just imagine during either one of the approaching games. Even as a lover of the normally chaotic streets of Rio de Janeiro, all this is enough to make me want to flee back to my Motherland in 2014 and 2016. It is food for thought. One could make a pretty penny renting our their apartment for ridiculously high tourist rates... Who am I kidding? We all know I'll be staying here and using it as Ranting ammo.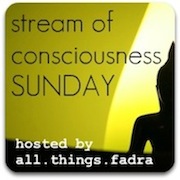 This was my 5 minute Stream of Consciousness Sunday post. It's five minutes of your time and a brain dump. Want to try it? Here are the rules…
Set a timer and write for 5 minutes.
Write an intro to the post if you want but don't edit the post. No proofreading or spellchecking. This is writing in the raw.
Publish it somewhere. Anywhere. The back door to your blog if you want. But make it accessible.
Add the Stream of Consciousness Sunday badge to your post.
Link up your post on Fadra's page.
Visit your fellow bloggers and show some love.